No major changes to our group fitness schedules this month but we do have some exciting special classes coming up in March! March 14th is our MegaLaunch, an Irish-themed event just in time for St. Patrick's Day. We've also got two special events at the Eastmont yoga studio this month, including the return of Cassy & Hans for another Cello and Chill session! Both classes are open to non-members. See more details below or contact us with your questions!
This month, we're also rolling out our new TeamWorx Group Training program! Classes begin with a dynamic warm-up that increases mobility and encourages injourage prevention. Then we get into our prescribed Workout of the Week! TeamWorx offers two different types of sessions (Muscle-Up and Metafit) to fit the general population's needs and goals.
And finally, March brings our new Membership special. This month only, join the gym for just $20 when you sign up for a year! If you or a friend want to join, sign-up here to get started today.
Wenatchee Bike Studio
Removing RPM Blast at 8:15am
Tuesday/Thursday 5:10am Bike instructor now varies
All Schedules
NO REGULAR CLASSES ON MARCH 14TH AT BOTH GYMS! We will be having our MegaLaunch event at Eastmont from 9am to 12pm.
Eastmont Yoga Studio Events
March 13: 6-7:30 PM Cello and Chill with Cassy and Hans. $20 for members, $25 for non-members. Enjoy a 90 minute restorative yoga session with the soothing sounds of live cello music from local celebrity Hans!
March 20:6-7:30 PM. Mind + Body Self Care and Restorative Yoga with Jami Steele. $20 for members, $25 for non-members. Brief exploration of self-care through dry brushing and detox baths, plus simple tips on how to treat yo self to a healthier, happier life. Followed by 60 minutes of extra special restorative yoga.
Special Classes
MARCH 14: Lucky in 2020 MegaLaunch! This event goes from 9AM-12PM at the Eastmont Worx. Cost is $20 and this includes a cool megalaunch shirt,  the 3 hour workout (Team Worx Personal Training Circuit, BodyPump, RPM, and Yoga at the end) followed by lunch from Dilly Deli and Irish Beer! Dress in your best green or irish attire! Non-members are welcome too. sign up at the front desk!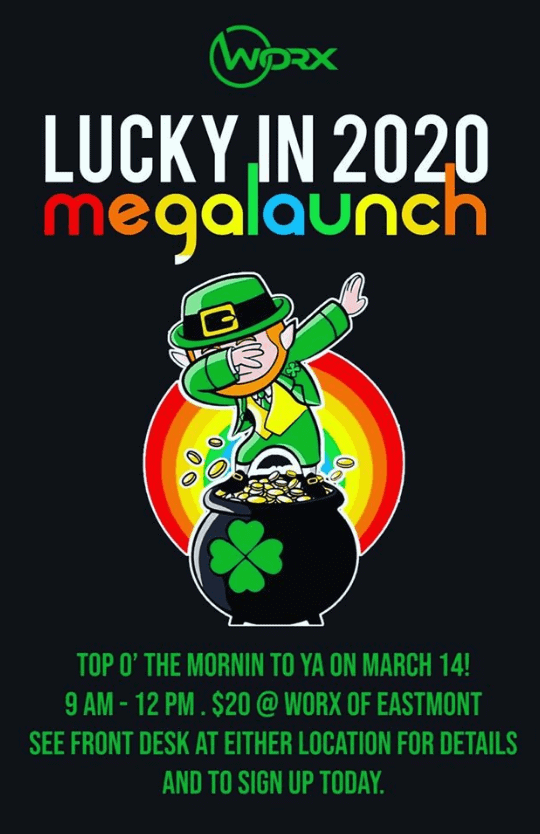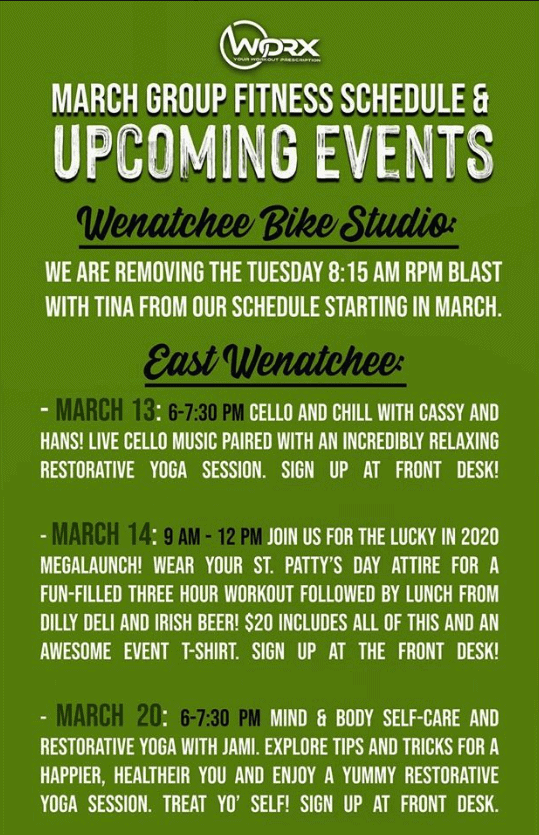 ☘️ SIGN UP NOW!!! $20 gets you an event shirt, a three hour workout, lunch from @dilly.deli , Irish beer (Guinness, harp, Kilkenny, Smithwicks, and cider), and an awesome fun time! Dress up in your favorite St.. Paddy's day attire and get ready for a great time!! Sign up now at either Worx location! ☘️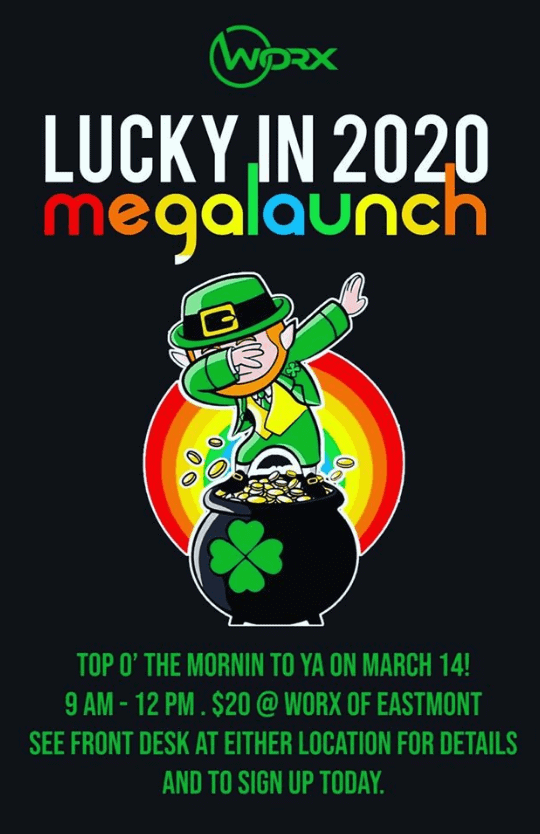 HELLO EVERYONE!
Saturday February 10th at 8:30 am I will be taking you through a full body strengthening, calorie burning workout! This is a fun and challenging group setting that will teach you a new workout to take away and repeat on your own. You will be taken through a movement preparation warm-up full of injury preventative mobility and stability exercises. Then onto the programmed workout with form cues, modifications if needed and a cool down/stretch with foam rollers.
Sign-up at the front desk - $10
Saturday, February 10th @ 8:30 am
Wenatchee Worx Gym
Led by Dana Lowe CPT