What's going on behind the scenes at Worx? Blair is back to give an update on some exciting changes happening while you've been gone!
When Worx re-opens, we're going to have the healthiest possible environment for our community. Our members deserve the healthiest environment for their workout. We also believe the deserve to have a great time while they're here. That means we're making some major changes to our facilities at both Eastmont and Wenatchee!
Watch our video update for a preview of the exciting changes tok expect when we can welcome you back to Worx! And follow our Facebook page for more updates and live-streamed group fitness classes!
Blair provides an update on the status of Worx amidst Washington State's emergency shut-down order. It isn't the best news, but we remain optimistic that Worx will be able to re-open for Wenatchee Valley safely soon! In the meantime, if you want to workout from home, follow our Facebook page to watch some of our virtual group fitness classes!
Blair provides an update on how the gym is preparing to ensure the safety of all members of Worx and the Wenatchee Valley community.
UPDATED MONDAY, MARCH 16TH
Amidst the emerging the recommendations of health professionals regarding COVID-19, we will not be curtailing our operations on Tuesday, we will be shutting down. We will target a 2-week timeframe, but are prepared for longer. We will be freezing everyone's dues so that you will not be paying for a time you did not have access.
Worx strives to be a champion of Wenatchee's health. The data coming out of King County is compelling. For our community, now is the time when we can lead or we can follow. We choose to lead.
See the full statement from Blair quoted below, or view it on our Facebook page.
Hi Worx Members,
We have been monitoring this situation hourly and I have personally been on calls with our community's top healthcare providers. All of which have made the data abundantly clear - shut it down.
I am personally feeling quite chagrined by having to do this after all of the planning and communicating we did today.
We will not be curtailing our operations on Tuesday. We will be shutting down. We will target a 2-week shutdown but are prepared for it to go longer. The trajectory of the epidemiology data coming out of King County is too compelling. We can lead or we can follow. We will lead.
Our hope is that we will cause a cascading effect in our community that might get other businesses to follow and perhaps we can greatly reduce the effect on our valley.
I am personally so sorry for having whip-sawed you all like this with our rapidly changing communication.
PLEASE understand that in our valley we have an opportunity if we act fast enough. And if we act fast enough and we can reduce the wave of COVID-19 cases, perhaps we can be a case study in how a small community should respond.
We will be freezing everyone's dues so that you will not be paying for a time you did not have access. Bear with us while we manage all of this. We will be keeping our staff employed and doing projects and/or community service. Whatever it takes to keep them whole during this time and to get them back face-to-face with all of you when this passes. And it will pass.
Going on 40 years of doing business in this valley and we have never seen anything like this. Please hang in there with us, our competitors, and all local businesses.
IMPORTANT: If you are a senior member at Worx and are isolated, please let us know of any errands to run or anything else we might help with. You can e-mail our GM Katie High at katieh@yourworkoutrx (dot) com for your help request [or click here].
This too shall pass. Hang in there everyone. It will get better.
Blair C. McHaney
No major changes to our group fitness schedules this month but we do have some exciting special classes coming up in March! March 14th is our MegaLaunch, an Irish-themed event just in time for St. Patrick's Day. We've also got two special events at the Eastmont yoga studio this month, including the return of Cassy & Hans for another Cello and Chill session! Both classes are open to non-members. See more details below or contact us with your questions!
This month, we're also rolling out our new TeamWorx Group Training program! Classes begin with a dynamic warm-up that increases mobility and encourages injourage prevention. Then we get into our prescribed Workout of the Week! TeamWorx offers two different types of sessions (Muscle-Up and Metafit) to fit the general population's needs and goals.
And finally, March brings our new Membership special. This month only, join the gym for just $20 when you sign up for a year! If you or a friend want to join, sign-up here to get started today.
Wenatchee Bike Studio
Removing RPM Blast at 8:15am
Tuesday/Thursday 5:10am Bike instructor now varies
All Schedules
NO REGULAR CLASSES ON MARCH 14TH AT BOTH GYMS! We will be having our MegaLaunch event at Eastmont from 9am to 12pm.
Eastmont Yoga Studio Events
March 13: 6-7:30 PM Cello and Chill with Cassy and Hans. $20 for members, $25 for non-members. Enjoy a 90 minute restorative yoga session with the soothing sounds of live cello music from local celebrity Hans!
March 20:6-7:30 PM. Mind + Body Self Care and Restorative Yoga with Jami Steele. $20 for members, $25 for non-members. Brief exploration of self-care through dry brushing and detox baths, plus simple tips on how to treat yo self to a healthier, happier life. Followed by 60 minutes of extra special restorative yoga.
Special Classes
MARCH 14: Lucky in 2020 MegaLaunch! This event goes from 9AM-12PM at the Eastmont Worx. Cost is $20 and this includes a cool megalaunch shirt,  the 3 hour workout (Team Worx Personal Training Circuit, BodyPump, RPM, and Yoga at the end) followed by lunch from Dilly Deli and Irish Beer! Dress in your best green or irish attire! Non-members are welcome too. sign up at the front desk!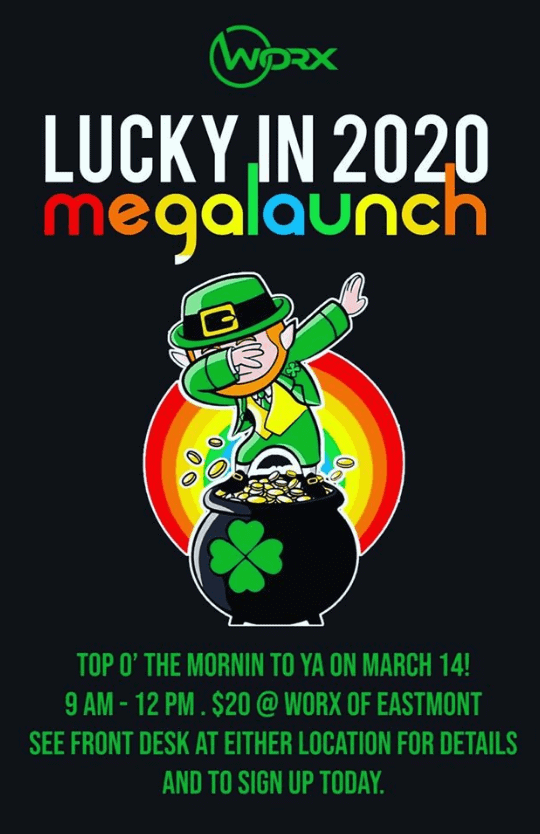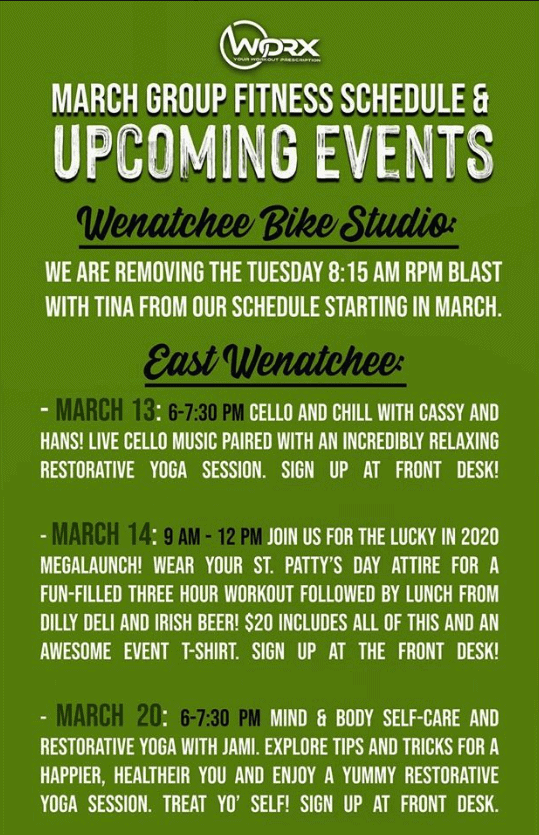 ☘️ SIGN UP NOW!!! $20 gets you an event shirt, a three hour workout, lunch from @dilly.deli , Irish beer (Guinness, harp, Kilkenny, Smithwicks, and cider), and an awesome fun time! Dress up in your favorite St.. Paddy's day attire and get ready for a great time!! Sign up now at either Worx location! ☘️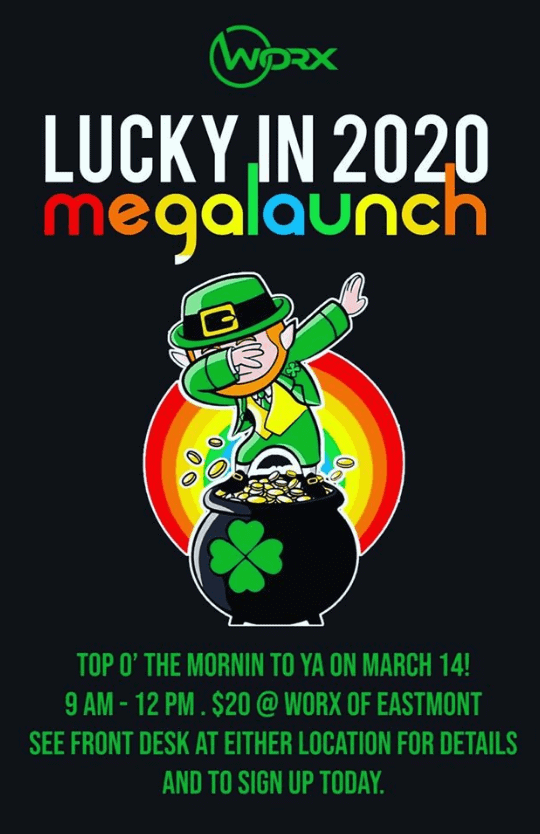 Starting March 1st Betsy will be taking clients for nutrition consultations and coaching! Exercise is awesome but you won't get anywhere without the proper diet. Have someone hold you accountable and get on track for a healthier, happier YOU! ???? ???? ????
Betsy is a precision certified coach and personal trainer. She is available to start taking appointments March 1st during her usual schedule, or you can call us to see about special hours. Get started or continue your journey today with one of these three package options! See the front desk or contact us to sign-up!
1-Hour Nutrition Assessment - $70
3 Day food diary analysis
Customized nutrition profile
Suggested shopping list
Sample meals
30-Minute Check-in - $40
Available only after completing the 1-Hour Nutrition Assessment (above)
Identify nutritional "culprits" and "promoters"
Body composition analysis (as needed)
Re-evaluate and modify goals for success
8-Week Package - $315
1-Hour Nutrition Assessment
7 half-hour check-in coaching sessions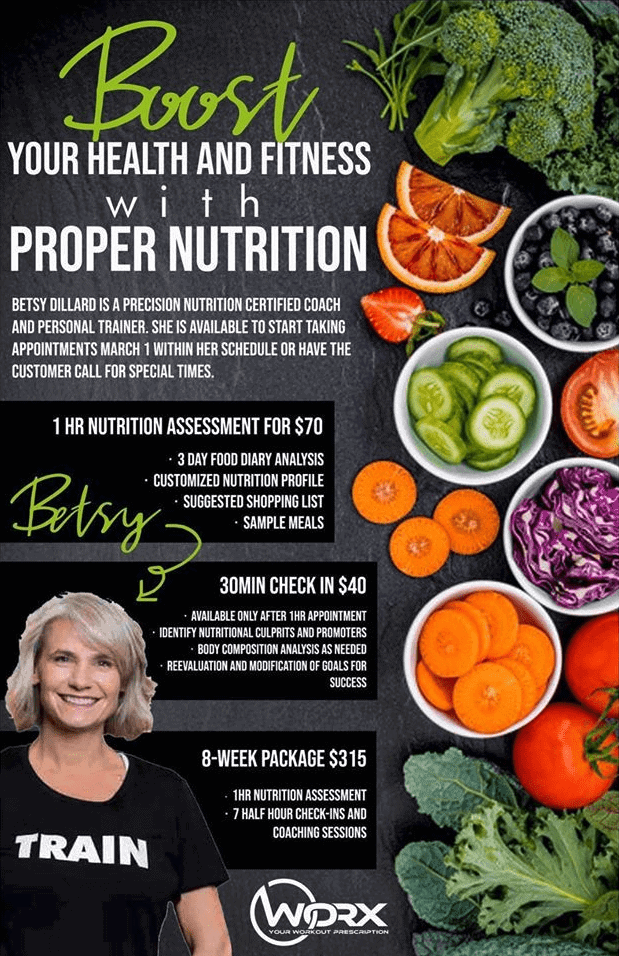 Worx is more than just a gym, we strive to be a responsible member of our Wenatchee Valley community. We want everyone in the Valley to build strong habits so they can live as their healthiest selves. We recently released two TV spots about who we are, and what we want to accomplish. Check them out below!
Don't start your workout cold! Kari gives us some tips and pointers to help us maximize our range of motion, limit chance of injury, and train strong.
[vimeo 339209749 w=600]
Tacos shells can be a tough proposition for a lot of diets. But a simple substitution of butter lettuce leaves is a low-carb solution for everyone!
Low-carb Lettuce Tacos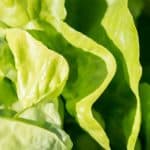 1 head of washed butter lettuce
Ground beef seasoned with taco seasoning
Chopped tomatoes
Chopped cilantro
1 can rinsed black beans
Diced onions
Chopped black olives
Shredded cheddar cheese
Sour cream (optional)
Guacamole (optional)
Hot sauce of choice
Put each ingredient in a separate bowl or container. Butter lettuce is used in place of tortilla. Make tacos with above ingredients and enjoy!  Ole'