We've got the perfect recipe for tasty muffins for your week! With Greek yogurt and oats, these blueberry muffins are both hearty and tender. Choose 1 cup of blueberries or double it for an extra dose of fruit. Enjoy!
Yogurt Oat Blueberry Muffins
1 cup plain greek yogurt
1/4 cup milk
1 egg
1 tsp. vanilla
1/3 cup honey
1 cup old fashioned oats
3/4 cup flour
1 tsp. baking powder
1/2 tsp. baking soda
1/4 tsp. salt
1-2 cups blueberries
4 Tbs. melted butter or coconut oil
Preheat oven to 37Line a 12 muffin cup pan with liners.
Whisk together yogurt, milk, egg, vanilla and honey in a medium bowl.
Whisk together dry ingredients. Add the blueberries and toss to combine.
Add the yogurt mixture and melted butter or coconut oil to the dry
ingredients just until combined.
Scoop batter into the muffin cups. Bake for 14-18 minutes or until the top
springs back when touched.
Cool and enjoy!
Round Break
Round Break
1-2 minute rest between rounds. Repeat 2-3 times.
Rest duration between exercises will vary depending on individual, but 30-60 seconds is recommended.
Easy to make for anybody, these bites are quick to throw together and are great to keep handy throughout the day.
Quick, Easy Energy Bites
These energy bites are great for that extra boost of energy when you're on the go!
2/3 cup creamy peanut butter
1/2 cups sweet chocolate chips
1 cup old fashioned oats
1/2 cup ground flax seed
2 tbsp honey
Mix all the ingredients well, place in refrigerator for 15-30 minutes (the cooler temperatures make them easier to handle!).

Roll into 12 bites. Store in the refrigerator.
Do full circuit, rest 1 minute and repeat 2 more times.
Walking dumbbell lunges 15 per side. Hold dumbbells at your sides while
doing the lunges.
Split jumps 1 minute. Stand in lunges position jump up and switch legs
repeatedly for the 1 minute.
Kettlebell row single arm. Standing with your feet apart slight forward
lean, keeping back straight pull kettlebell up into a row. Repeat 12-15
times per side.
Jump rope for 1 minute.
Squat into a dumbbell shoulder press 12–15 per side. Standing with legs hip-width apart, hold dumbbells at your shoulders, squat down then stand back up and lift arm into an overhead press.
Squat jumps 12-15. Squat down and jump up swinging your arms over head.
Standing bicep curls (do both arms together). Don't swing your arms, keep them controlled both ways. 12-15 reps.
Jump rope 1 more minute.
Rest 1 minute and repeat circuit 2 more times.
Parmesan Roasted Carrots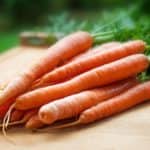 Parmesan roasted carrots are a quick and delicious way to get more carrots in your meal plan!
8-10 peeled carrots
2 tbsp melted butter
4 tbsp grated parmesan cheese
1 tsp chopped parsley
Preheat oven to 400 degrees

Mix melted butter and garlic together

Place carrots on parchment-lined baking sheet

Drizzle carrots with butter and garlic mixture

Roast for 15 minutes, shaking pan occasionally to rotate carrots

Top carrots with cheese and roast another 10-15 minutes or until the carrots reach desired doneness

Top with parsley and serve immediately
Portobello Margherita Pizza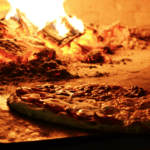 8 Portobello Mushrooms
1 tbsp Olive Oil
1/2 tbsp Garlic Powder
Pinch Salt
1/4 tsp Ground Pepper
1/2 cup Crushed Tomatoes
1 tbsp Dried Oregano
1 tbsp Crushed Red pepper
1 cup Mozeralla (Shredded)
1 cup Cherry Tomatoes (Sliced)
1/2 cup Fresh Basil
2 tbsp Balsamic Vinegar
Pizza Dough*
Turn on your broiler. Line a baking sheet with foil. Stretch pizza dough and place it on the tray with the mushrooms, stem side down, and drizzle with olive oil. Sprinkle with the garlic powder, salt and pepper. Broil for 5 min.

Take out of the oven and top with the crushed tomatoes, dried oregano, red pepper flakes, cheese and tomatoes. Broil 5 min.

Top with basil, drizzle with balsamic and enjoy!
*You can use your favorite pizza dough from your supermarket, or get ambitious and make your own!
This quick routine can get you a full-body workout with minimal equipment. It's so straightforward, it can be done in the gym or at home. All you'll need is a set of dumbbells!
Unless otherwise noted, be sure to do 12-15 reps of each exercise!  Take a short break and have a little water every three exercises. A couple minutes is plenty! And if you come across an one that you don't know, click on it's title for a video demonstration.
Have fun!
HELLO EVERYONE!
Saturday February 10th at 8:30 am I will be taking you through a full body strengthening, calorie burning workout! This is a fun and challenging group setting that will teach you a new workout to take away and repeat on your own. You will be taken through a movement preparation warm-up full of injury preventative mobility and stability exercises. Then onto the programmed workout with form cues, modifications if needed and a cool down/stretch with foam rollers.
Sign-up at the front desk - $10
Saturday, February 10th @ 8:30 am
Wenatchee Worx Gym
Led by Dana Lowe CPT
INGREDIENTS
4 tsp. extra virgin olive oil divided
1 pound raw tail on shrimp, peeled and deveined
1 tsp. kosher salt, divided
1/2 tsp. chili powder, divided
1/3 cup finely chopped onion
3 cloves garlic, minced
1 cup uncooked quinoa
1/4 tsp. cayenne pepper
2 cups chicken broth
1 large lemon
3 T. fresh parsley